Outlooks in Norton All About Staying Modern
A look at the Outlooks Hair Salon in Norton.
by Jeff Sullivan (Editor, Norton Patch), July 1, 2013
Melissa Lovenbury first started cutting hair 10 years ago at the Outlooks Hair Salon, and now as the owner she's continuing to go strong.
"I had a real strong interest in working with people and making them feel good about themselves."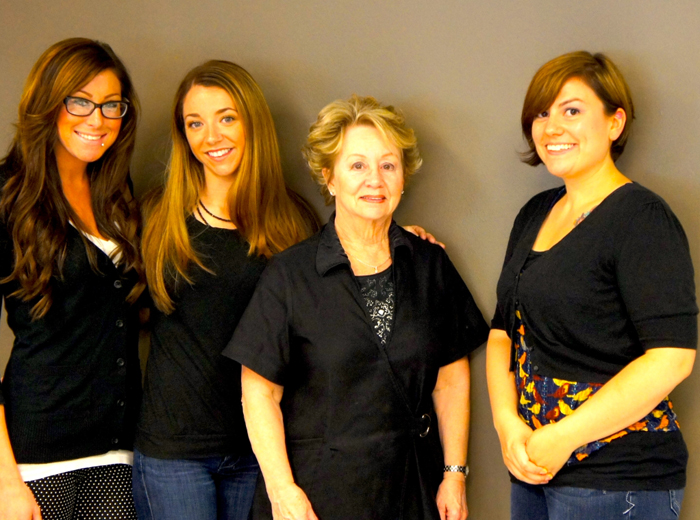 Lovenbury said she worked at "Outlooks" as a stylist when the owner wanted to sell and she took the opportunity.
"I wound up purchasing it," she said. "We wanted to keep the goodwill and clientele without it getting lost to a stranger. We didn't make any major changes. We changed the paint in the salon, switched up the product lines a little to American made lines. We didn't change much because we didn't the regulars to feel like there was a major change happening."
Lovenbury works with her staff of stylists Lindsay O'Brien, Andrea Villeneuve, and Debbie Gangemi.
"We have a great group of girls that work here," she said.
Lovenbury said they were able to keep their clientele and regulars and she said it's great to see her work and their regulars all over Norton.
"I grew up in Norton and it can be a very interesting place, with a lot of people you grew up with," she said. "You have a lot of ties and connections. It's great you can go out to the store and see your clients. It's nice to keep that familiar setting."
Lovenbury said one change she and her staff made was to switch more American hair products.
"We wanted to support the country," she said. "American made is the way to go; keep it in the country. People don't realize there are so many name brands are very commercialized and they outsource to different countries."
Lovenbury said the store carries two lines of American hair products and would have more if the selection increased.
"It's not a huge selection but it's a big appeal to people," she said.
Lovenbury said they try to keep up with the latest styles and will do most requests anyone wants, from the latest trends, old standbys and even a few unique requests.
"I shaved my initials in somebody's back once," she said.
Lovenbury said for the latest styles, once a month she and her staff run a training session every month to stay connected to the fashion world.
"We're always up to date on the newest and latest techniques," she said. "If there's anything updated or trending we train ourselves for it. You won't find that in many other salons, and it benefits the salon and the clientele."
Lovenbury said they donate to local charities in Norton.
"We always have a food drive and donate box loads of canned goods to the Norton Food Pantry," she said.
Outlooks in Norton is located at 130 Mansfield Ave. and is open Tuesday, 10 a.m. - 7 p.m., Wednesday, 9 a.m. - 7 p.m.; Thursday, 1- 6 p.m.; Friday, 9 a.m - 7 p.m.; Saturday, 9 a.m. - 3 p.m.; Sunday, Monday, closed.